Acoustic Learning, Inc.
Absolute Pitch research, ear training and more
---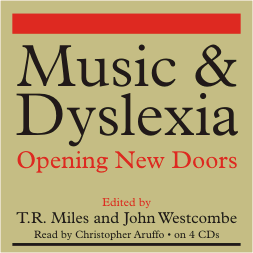 Order direct and get a 10% discount off the cover price! (reg. $34.95)
Click below to order the Music and Dyslexia audiobook
(ISBN 0-9761435-0-X). Ships immediately.
Click here to read about Music & Dyslexia on Amazon.
This book shows how some dyslexics can be highly gifted musicians. It is important that dyslexics should not be discouraged from studying music just because-- at least in the early stages-- many of them find it difficult to read and remember the symbols of musical notation. The foreword is by Baroness Mary Warnock. Ten of the 21 contributors to the book are themselves dyslexic musicians, and each relates their personal experience as a professional or amateur musician. The other contributors are teachers or researchers who have wide experience with dyslexic musicians of all ages. The book's message is one of optimism: With sufficient encouragement and understanding, dyslexic musicians can succeed.
I have discovered some striking similarities between dyslexia and absolute pitch. The most prominent are:
- Dyslexic people appear to listen to music absolutely, even if they can't name the tones
- An untrained musician reading music closely resembles a dyslexic reading words
This audiobook does not address absolute pitch specifically, but the contributors' experiences illustrate many aspects of the dyslexic musical experience which I have been able to relate directly to my work on this website.
---